Hedonic Price Indices 1661-1800 of Prices from Danish Estate Accounts
Main Groups of Commodities
Source:
A database containing the original data from
"A History of Prices and Wages in Denmark 1660-1800", Vol. II, "Prices and Wages in Danish Estate Accounts
" by
Dan H. Andersen
and
Erik Helmer Petersen
. Copenhagen 2004, ISBN87-609-1221-9.
A copy of the database was kindly provided by Dan H. Andersen.
---
The Hedonic Price Model
Within the 15 main groups of commodities the ln(price) is assumed to depend on three (four) groups of binary variables
:

the commodities

C,

place of transaction

E (estate),

year

Y and eventualy

type of transaction

T (purchase, sale, unknown).

The prices are quoted in Skilling (ß)
---
Weighted Average of Hedonic Price Indices for 15 Main Groups of Commodities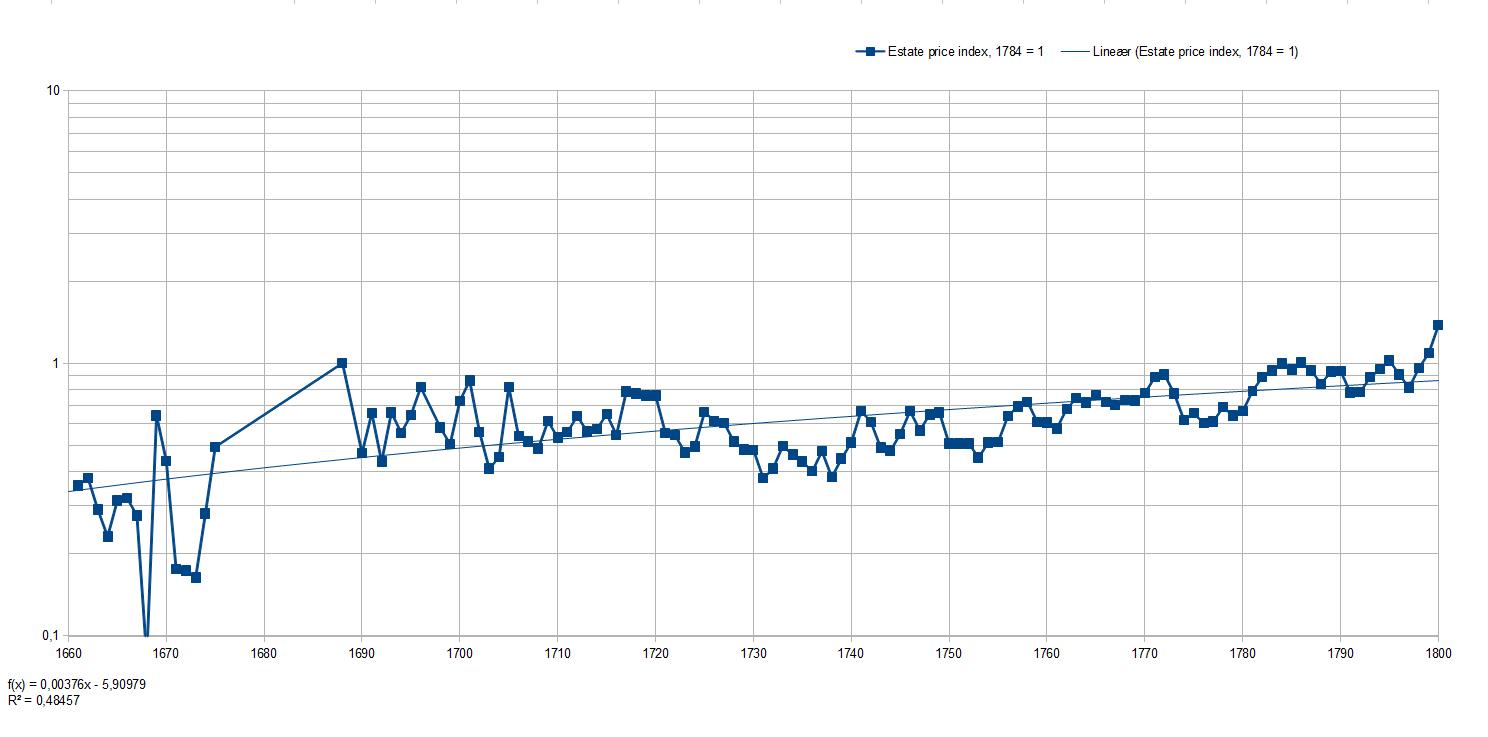 Table 1

Average Price Structure on Danish Estates 1661-1800, prices in ß1784(§
Main Group
(1)

Commodity (in Danish)
(2)

Volume
(3)

Danish Unit
(4)

Commodity
(5)

Quantity of Danish Unit in Metric Units
(6)

Metric Unit
(7)

Type of transaction
(8)
Mean – 2 * std. dev., ß
(9)

Mean in ß
(10)
Mean +
2 * std.
dev., ß
(11)

Volume in ß1784
(12)

Notes on metric units
(13)

I. Grains
Boghvede
4.373
Tønde
Buckwheat
0,9853
hkg

Sale
228
239
249
1.065.369
(5) 139,1 litre / (0,170 kg/0,24 litre) ~ 98,53 kg
I. Grains
Byg
221.709
Tønde
Barley
0,946
hkg

Sale
249
254
259
56.529.892
(6) p 243. 139,1 litre à 68 kg/hl ~ 94,6 kg
I. Grains
Halm
2.094
Læs
Straw
1,92
hkg

Sale
103
109
116
236.265
(4) p 126. Cart-Load straw ~ 24 lispund = 192 kg
I. Grains
Havre
98.943
Tønde
Oats
0,6955
hkg

Sale
157
160
164
17.117.225
(6) p 243. 139,1 litre à 50 kg/hl ~ 69,55 kg
I. Grains
Humle
1.146
Lispund
Hops
8
kg
Sale
321
334
348
535.304


I. Grains
Hvede
10.672
Tønde
Wheat
0,9737
hkg
Sale
476
494
513
5.240.427
(6) p 243. 139,1 litre à 77 kg/hl ~ 97,37 kg
I. Grains
Hø
5.351
Læs
Hay
2,56
hkg

Sale
234
244
254
1.538.586
(4) p 126. Cart-Load hay ~ 32 lispund = 256 kg
I. Grains
Kløverfrø
2.767
Lispund
Clover
8
kg
Sale
234
247
262
757.853


I. Grains
Malt
4.928
Tønde
Malt
139,1
litre
Sale
246
258
270
1.465.910


I. Grains
Rug
76.531
Tønde
Rye
1,02934
hkg
Sale
346
363
382
28.481.932
(6) p 243. 139,1 litre à 74 kg/hl ~ 102,934 kg
I. Grains
Vikker
62
Tønde
Vetch
139,1
litre
Sale
237
261
287
18.598


I. Grains
Ærter
5.931
Tønde
Peas
139,1
litre

Sale
308
318
327
1.809.922
(2) p 268
II. Grain Products
Boghvedegryn
2.374
Skæppe
Buckwheat Groats
17,39
litre
Purchase
57
78
106
181.273


II. Grain Products
Perlegryn
249
Pund
Pearl-Barley
0,5
kg
Purchase
11
13
13
23.868


II. Grain Products
Hvedemel, engelsk
115
Lispund
Wheat Flour, English
8
kg
Purchase
176
198
198
21.324


II. Grain Products
Hvedemel uden engelsk hvedemel
914
Lispund
Wheat Flour, except English
8
kg
Purchase
99
106
106
95.482


II. Grain Products
Havregryn
425
Skæppe
Oats Groats
8
kg
Purchase
62
71
71
24.477
17,39 litre x 0,30 kg/litre
II. Grain Products
Byggryn
249
Skæppe
Barley Groats
8
kg
Purchase
61
69
69
15.866
(2) p 268, Skæppe = 1/8 Barrel ~ 70/8 kg
III. Livestock and Meat
Agerhøns
1.825
Stk
Partridge
1
Animal
Purchase
42
47
52
92.356


III. Livestock and Meat
Duer
6.031
Stk
Pigeons
1
Animal
Purchase
11
12
14
112.072


III. Livestock and Meat
Dådyr
269
Stk
Fallow deer
1
Animal
Purchase
443
501
567
118.306


III. Livestock and Meat
Flæsk
19.018
Pund
Pork
0,5
kg
Purchase
7
8
9
133.397


III. Livestock and Meat
Gæs
15.534
Stk
Gees
3
kg
Purchase
33
35
38
455.592
(2) p 272
III. Livestock and Meat
Harer
3.937
Stk
Hares
1
Animal
Purchase
73
78
85
293.927


III. Livestock and Meat
Heste, a
900
Stk
Horses, a
1
Head
Purchase
1.883
2.025
2.177
1.730.792


III. Livestock and Meat
Heste, b
786
Stk
Horses, b
1
Head
Purchase
1048
1124
1206
817.239


III. Livestock and Meat
Heste, c
2.837
Stk
Horses, c
1
Head
Purchase
1.507
1.590
1.678
4.136.899


III. Livestock and Meat
Heste, d
45
Stk
Horses, d
1
Head
Purchase
1748
2072
2455
87.566


III. Livestock and Meat
Heste, e
193
Stk
Horses, e
1
Head
Purchase
4.493
4.963
5.482
826.563


III. Livestock and Meat
Høns
11.996
Stk
Hens
1,5
kg
Purchase
15
16
18
177.479
(2) p 272
III. Livestock and Meat
Kalkuner
1.240
Stk
Turkeys
1
Animal
Purchase
69
85
104
95.358


III. Livestock and Meat
Kalve
2.597
Stk
Calves
32
kg
Purchase
208
226
246
509.976
(2) p 271
III. Livestock and Meat
Kalvekød
40.933
Pund
Veal
0,5
kg
Purchase
9
10
11
403.096


III. Livestock and Meat
Kapuner
3.180
Stk
Capons
1
Animal
Purchase
34
37
41
166.965


III. Livestock and Meat
Kronvildt
118
Stk
Red deer
1
Animal
Purchase
538
630
737
65.662


III. Livestock and Meat
Kyllinger
21.558
Stk
Chickens
1,5
kg
Purchase
9
9
10
244.174
(2) p 272
III. Livestock and Meat
Køer
3.147
Stk
Cows
1
Head
Purchase
1.113
1.267
1.441
3.777.791


III. Livestock and Meat
Lam
9.928
Stk
Lambs
11,335
kg
Purchase
117
125
133
1.241.536
(2) p 272
III. Livestock and Meat
Lammekød
737
Stk
Lambs
11,335
kg
Purchase
118
128
139
124.512
(2) p 272
III. Livestock and Meat
Oksekød
297.860
Pund
Beef
0,5
kg
Purchase
6
6
6
1.533.010


III. Livestock and Meat
Røget flæsk
14.844
Pund
Smoked Pork
0,5
kg
Purchase
7
8
10
172.954


III. Livestock and Meat
Rådyr
1.337
Stk
Roe deer
1
Animal
Purchase
263
287
312
338.912


III. Livestock and Meat
Snepper
1.125
Stk
Snipes
1
Animal
Purchase
38
44
51
43.054


III. Livestock and Meat
Stude
5.935
Stk
Bullocks
213,1
kg
Purchase
1375
1471
1573
9.343.614
(2) p 271: (343,01+0,99048YY)/2
III. Livestock and Meat
Svin
2.855
Stk
Pigs
50
kg
Purchase
364
388
413
1.031.916
(2) p 271
III. Livestock and Meat
Vildgæs
178
Stk
Wild geese
3
kg
Purchase
15
18
22
2.844
(2) p 272
III. Livestock and Meat
Vildænder
1.665
Stk
Wild ducks
1,1
kg
Purchase
7
8
10
12.177
(2) p 272
III. Livestock and Meat
Ænder
4.190
Stk
Ducks
1,1
kg
Purchase
15
16
17
75.421
(2) p 272
IV. Diary Produce
Andet (ost)
375
Pund
Other (cheese)
0,5
kg
Sale
2
3
5
1.430


IV. Diary Produce
Engelsk ost
198
Pund
English cheese
0,5
kg
Purchase
19
23
28
4.100


IV. Diary Produce
Fløde
4.219
Pot
Cream
0,966
litre
Purchase
10
11
12
46.888


IV. Diary Produce
Fåreost
1.452
Pund
Sheep cheese
0,5
kg
Sale
4
5
6
6.480


IV. Diary Produce
Hollandsk ost
190
Pund
Cheese, Dutch
0,5
kg
Purchase
14
17
20
2.956


IV. Diary Produce
Mælk
15.727
Pot
Milk
0,966
litre
Purchase
1
2
2
25.617


IV. Diary Produce
Ost
583.519
Pund
Cheese
0,5
kg
Sale
3
3
3
1.856.191


IV. Diary Produce
Parmasan
224
Pund
Parmasan cheese
0,5
kg
Purchase
40
49
59
13.901


IV. Diary Produce
Smør
6.329
Fjerding
Butter
28
kg
Sale
602
634
668
4.073.343


IV. Diary Produce
Sur ost
1.818
Pund
Cheese, sour
0,5
kg
Sale
2
2
3
5.101


IV. Diary Produce
Sød ost
617
Pund
Cheese, sweet
0,5
kg
Purchase
6
7
8
4.221


IV. Diary Produce
Æg
22.549
Snes
Eggs
20
Pieces
Purchase
9
11
13
222.434


V. Fish and Train Oil
Bergefisk
802
Lispund
Split Cod
8
kg
Purchase
94
102
112
82.360


V. Fish and Train Oil
Klipfisk
53
Lispund
Split Cod
8
kg
Purchase
96
112
130
5.986


V. Fish and Train Oil
Sild, Ol
7.429
Ol
Herring, 80 pieces
80
Pieces
Purchase
13
14
16
99.523


V. Fish and Train Oil
Sild, Tønder
163
Tønde
Herring, barrel
115,9
litre

Purchase
565
619
679
96.642
(2) p 272
V. Fish and Train Oil
Spegesild
73
Tønde
Salt Herring
115,9
litre

Purchase
634
699
770
52.054
(2) p 272
V. Fish and Train Oil
Torsk
48
Tønde
Cod
1,10
hkg
Purchase
494
581
683
26.895
(2) p 272, barrel of salt fish 110 kg
V. Fish and Train Oil
Tranolie
2.629
Tønde
Train Oil
115,9
litre
Purchase
1.922
2.282
2.709
111.524


VII. Fruits
Citroner
18.302
Stk
Lemons
1
Piece
Purchase
5
6
6
106.931


VII. Fruits
Korender
1.676
Pund
Currants
0,5
kg
Purchase
12
13
15
21.908


VII. Fruits
Rosiner
2.618
Pund
Raisins
0,5
kg
Purchase
10
12
13
29.501


VII. Fruits
Svedsker
1.886
Pund
Prunes
0,5
kg
Purchase
6
6
7
11.577


VII. Fruits
Æbler
587
Tønde
Apples
60
kg
Purchase
58
112
214
72.759
(2) p 269
VIII. Spices
Anis
17
?
Anise
?
?
Purchase
8
10
13
168


VIII. Spices
Hvid ingefær
84
Pund
White Ginger
0,5
kg
Purchase
20
23
25
1.987


VIII. Spices
Ingefær
44
Pund
Ginger
0,5
kg
Purchase
17
20
23
973


VIII. Spices
Kaffe
3.751
Pund
Coffee
0,5
kg
Purchase
30
34
38
128.601


VIII. Spices
Kakao
1.497
Pund
Cocoa
0,5
kg
Purchase
45
50
56
70.971


VIII. Spices
Kanel
75
Pund
Cinnamon
0,5
kg
Purchase
225
245
267
18.244


VIII. Spices
Kardemomme
29
Pund
Cardamom
0,5
kg
Purchase
290
319
351
9.197


VIII. Spices
Mandler
553
Pund
Almonds
0,5
kg
Purchase
17
19
22
10.831


VIII. Spices
Mandler, Revne
239
Pund
Almonds, grated
0,5
kg
Purchase
19
24
29
5.346


VIII. Spices
Mandler, Søde
138
Pund
Almonds, sweet
0,5
kg
Purchase
16
20
25
2.568


VIII. Spices
Muskatblomme
53
Pund
Mace
0,5
kg
Purchase
450
498
552
25.227


VIII. Spices
Muskatnød
23
Pund
Nutmeg
0,5
kg
Purchase
157
183
214
3.909


VIII. Spices
Nelliker
42
Pund
Carnations
0,5
kg
Purchase
236
258
282
10.946


VIII. Spices
Peber, Hvid
32
Pund
Pepper, white
0,5
kg
Purchase
56
65
75
1.995


VIII. Spices
Peber, Sort
137
Pund
Pepper, black
0,5
kg
Purchase
34
37
41
5.474


VIII. Spices
Risengryn
3.170
Pund
Rice Groats
0,5
kg
Purchase
7
8
8
25.643


VIII. Spices
Safran
2
Pund
Saffron
0,5
kg
Purchase
980
1.145
1.339
2.125


VIII. Spices
Sago
39
Pund
Sago
0,5
kg
Purchase
21
31
45
1.473


VIII. Spices
Sukker
1.262
Pund
Sugar
0,5
kg
Purchase
20
23
26
29.540


VIII. Spices
Sukker, canari
3.161
Pund
Sugar, Canarian
0,5
kg
Purchase
22
25
28
75.153


VIII. Spices
Sukker, fin
4.428
Pund
Sugar, fine
0,5
kg
Purchase
20
23
25
98.888


VIII. Spices
Sukker, fin raffineret
5.594
Pund
Sugar, fine refined
0,5
kg
Purchase
21
24
27
134.138


VIII. Spices
Sukker, groft
282
Pund
Sugar, coarse
0,5
kg
Purchase
12
16
22
4.464


VIII. Spices
Sukker, hvidt
102
Pund
Sugar, white
0,5
kg
Purchase
18
22
27
2.599


VIII. Spices
Sukker, kandis
1.394
Pund
Sugar, candied
0,5
kg
Purchase
24
27
30
36.971


VIII. Spices
Sukker, melis
3.400
Pund
Sugar, melis
0,5
kg
Purchase
18
20
22
71.036


VIII. Spices
Sukker, puddersukker
377
Pund
Sugar, brown
0,5
kg
Purchase
12
14
17
7.101


VIII. Spices
Sukker, raffineret
908
Pund
Sugar, refined
0,5
kg
Purchase
20
23
26
22.690


VIII. Spices
The, 1
288
Pund
Tea, 1
0,5
kg
Purchase
157
174
193
49.611


VIII. Spices
The, 2
545
Pund
Tea, 2
0,5
kg
Purchase
103
113
125
61.845


VIII. Spices
The, 3
67
Pund
Tea, 3
0,5
kg
Purchase
218
251
288
16.587


VIII. Spices
The, 4
47
Pund
Tea, 4
0,5
kg
Purchase
310
370
442
17.421


VIII. Spices
The, 5
246
Pund
Tea, 5
0,5
kg
Purchase
96
109
124
28.517


VIII. Spices
The, 6
67
Pund
Tea, 6
0,5
kg
Purchase
140
175
218
12.510


VIII. Spices
Vineddike
3.586
Pot
Wine Vinegar
0,966
litre
Purchase
10
11
12
39.414


VIII. Spices
Øleddike
542
Pot
Beer Vinegar
0,966
litre
Purchase
3
3
4
2.170


IX. Salt
Lyneburger
356
Tønde
Salt, Lüneburger
127,5
kg
Purchase
194
298
456
106.601
(3) p. 494, Liverpool salt: 8 Tdr. pr. Ton
IX. Salt
Salt
946
Tønde
Salt
127,5
kg
Purchase
241
273
308
247.802
(3) p. 494, Liverpool salt: 8 Tdr. pr. Ton
X. Beverages
Akvavit
546
Pot
Aquavit
0,966
litre
Purchase
25
27
30
13.254


X. Beverages
Brændevin, dansk
12.442
Pot
Danish Brandy
0,966
litre
Purchase
18
19
21
214.370


X. Beverages
Brændevin, fransk
669
Pot
French Brandy
0,966
litre
Purchase
38
40
42
22.959


X. Beverages
Rødvin
2.072
Pot
Red Wine
0,966
litre
Purchase
35
37
39
45.512


X. Beverages
Vin
540
Pot
Wine
0,966
litre
Purchase
20
22
24
14.028


X. Beverages
Vin, fransk
1.228
Pot
Wine, French
0,966
litre
Purchase
21
22
24
61.872


X. Beverages
Øl, I
121
Tønde
Beer, I
131,39
litre
Purchase
267
286
305
36.559
Beer barrel = 136 Pots
X. Beverages
Øl, II
199
Tønde
Beer, II
131,39
litre
Purchase
209
224
241
52.452


X. Beverages
Øl, III
370
Tønde
Beer, III
131,39
litre
Purchase
152
164
177
72.736


X. Beverages
Øl, IV
96
Tønde
Beer, IV
131,39
litre
Purchase
107
130
158
11.007


XI. Light and Fuel
Bøgetræ
879
Favn
Beech Wood
2,19
m2
Purchase
240
261
284
217.638
3x3x1 alen. Alen= 62,418 cm
XI. Light and Fuel
Stenkul
975
Tønde
Coal
1,50
hkg
Purchase
119
126
133
128.263
(3) p. 494, 6,5-7 Tdr. pr. Ton
XI. Light and Fuel
Trækul
7.650
Tønde
Charcoal
0,3536
hkg
Purchase
25
28
31
225.762
1 Barrel = 176 Pots = 170.02 litre ~ 35,36 kg
XI. Light and Fuel
Tælle
32.460
Pund
Tallow
0,5
kg
Purchase
11
12
12
379.027


XI. Light and Fuel
Tællelys
6.293
Pund
Tallow Candles
0,5
kg
Purchase
15
15
16
109.188


XI. Light and Fuel
Tørv
11.390
Læs
Peat
3,1534
hkg
Purchase
27
28
30
305.243
Cart-Load ~ 6 Tdr.? = 788,34 litre à 0,4 kg/litre
XI. Light and Fuel
Voks
1.422
Pund
Wax
0,5
kg
Purchase
32
35
38
55.200


XII. Textiles
Hamp
316
Lispund
Hemp
8
kg
Purchase
127
155
188
48.330


XII. Textiles
Hør
886
Lispund
Flax
8
kg
Purchase
187
207
228
177.675


XII. Textiles
Klæde
407
Alen
Cloth
0,62418
m
Purchase
137
164
194
58.867


XII. Textiles
Lærred
5.116
Lispund
Linen
8
kg
Purchase
15
16
18
87.126


XII. Textiles
Lærred, a
747
Lispund
Linen, a
8
kg
Purchase
26
31
36
27.637


XII. Textiles
Lærred, ac
11
Lispund
Linen, ac
8
kg
Purchase
14
23
38
233


XII. Textiles
Lærred, b
381
Lispund
Linen, b
8
kg
Purchase
9
11
13
4.277


XII. Textiles
Lærred, bc
151
Lispund
Linen, bc
8
kg
Purchase
6
10
16
22.148


XII. Textiles
Lærred, c
944
Lispund
Linen, c
8
kg
Purchase
12
14
17
12.731


XII. Textiles
Lærred, cd
159
Lispund
Linen, cd
8
kg
Purchase
6
12
23
1.600


XII. Textiles
Lærred, d
14
Lispund
Linen, d
8
kg
Purchase
13
19
27
308


XII. Textiles
Lærred, df
6
Lispund
Linen, df
8
kg
Purchase
9
18
35
105


XII. Textiles
Lærred, e
127
Lispund
Linen, e
8
kg
Purchase
8
12
18
1.555


XII. Textiles
Lærred, f
98
Lispund
Linen, f
8
kg
Purchase
16
20
27
2.050


XII. Textiles
Sejlgarn
982
Pund
Twine
0,5
kg
Purchase
24
27
31
23.556


XII. Textiles
Silke
237
Lod
Silk
0,015625
kg
Purchase
26
29
33
6.040
1 Pund = 32 Lod
XII. Textiles
Uld
3.176
Pund
Wool
0,5
kg
Purchase
16
25
41
61.859


XII. Textiles
Uld, a
845
Pund
Wool, a
0,5
kg
Purchase
17
28
48
19.327


XII. Textiles
Uld, b
949
Pund
Wool, b
0,5
kg
Purchase
14
23
39
17.359


XII. Textiles
Uld, c
885
Pund
Wool, c
0,5
kg
Purchase
11
19
31
12.344


XII. Textiles
Uld, d
463
Pund
Wool, d
0,5
kg
Purchase
12
21
36
7.940


XII. Textiles
Uld, e
441
Pund
Wool, e
0,5
kg
Purchase
11
19
33
6.712


XII. Textiles
Vadmel
507
Lispund
Homespun
8
kg
Purchase
23
27
31
13.002


XIII. Hides and Skins
Kalveskind
2.872
Stk
Calfskin
1
Piece
Sale
10
13
18
42.325


XIII. Hides and Skins
Kohuder
1.937
Stk
Cowhide
1
Piece
Sale
57
65
74
120.120


XIII. Hides and Skins
Lammeskind, 1
154
Stk
Lambskin, 1
1
Piece
Sale
5
7
9
561


XIII. Hides and Skins
Lammeskind, 2
171
Stk
Lambskin, 2
1
Piece
Sale
4
6
8
1.470


XIII. Hides and Skins
Lammeskind, 3
1.006
Stk
Lambskin, 3
1
Piece
Sale
3
4
5
5.733


XIII. Hides and Skins
Lammeskind, 4
67
Stk
Lambskin, 4
1
Piece
Sale
8
12
17
1.156


XIII. Hides and Skins
Lammeskind, 5
163
Stk
Lambskin, 5
1
Piece
Sale
8
11
14
1.643


XIII. Hides and Skins
Læder
181
Pund
Leather
0,5
kg
Sale
10
16
23
3.583


XIII. Hides and Skins
Svinebørster
233
Skæppe
Pig Bristles
16,49
litre
Sale
2
2
4
686


XIV. Building Matterials
Langhalm
37.126
Læs
Long Straw




Purchase
101
110
119
4.158.242
Cart Load = ?
XIV. Building Matterials
Kalksten
599
Kubikfavn
Limestone
6,7
m3
Purchase
456
494
534
301.627


XIV. Building Matterials
Læsket kalk
44.284
Tønde
Slaked Lime
139,12
litre
Purchase
53
55
57
2.303.724


XIV. Building Matterials
Mursten
35.145
100 Stk
Bricks
100
Pieces
Purchase
74
77
80
2.629.923


XIV. Building Matterials
Mursten, dobbelt
12.392
100 Stk
Bricks, double
100
Pieces
Purchase
79
85
91
1.007.970


XIV. Building Matterials
Stenkalk
3.341
Tønde
Quicklime
139,12
litre
Purchase
127
136
145
475.804


XIV. Building Matterials
Tagrør
1.049
Læs
Thatching Reeds




Purchase
130
141
154
163.354
Cart Load = ?
XIV. Building Matterials
Tagsten
11.656
100 Stk
Roof Tiles
100
Pieces
Purchase
161
166
173
1.932.678


XIV. Building Matterials
Tækkegarn
2.153
Lispund
Thatching Twine
8

kg
Purchase
86
90
94
200.154


XIV. Building Matterials
Tømmer, 10 alen
7.216
Stk
Ten alen Timbers (Single)
1
Piece
Purchase
15
16
17
121.363


XIV. Building Matterials
Tømmer, 12 alen
28.002
Stk
Single Twelve alen Timbers
1
Piece
Purchase
24
25
26
683.500


XIV. Building Matterials
Tømmer, 12 alen dobbelt
24.685
Stk
Double Twelve alen Timbers
1
Piece
Purchase
40
42
44
1.022.128


XIV. Building Matterials
Tømmer, 16 alen, Dobbelt
381
Stk
Double Sixteen alen Timbers
1
Piece
Purchase
73
82
92
30.821


XIV. Building Matterials
Tømmer, 16 alen, Enkelt
5.620
Stk
Single Sixteen alen Timbers
1
Piece
Purchase
70
74
77
403.294


XV. Metals
Bly
6.887
Lispund
Lead
8
kg
Purchase
91
99
107
640.662


XV. Metals
Jern
15.612
Lispund
Bar Iron
8
kg
Purchase
66
70
73
1.044.969


XV. Metals
Stål
620
Pund
Steel
0,5
kg
Purchase
11
12
14
7.126


XV. Metals
Søm, 1
639.514
100 Stk
Nails, 1
100
Pieces
Purchase
37
38
40
246.790


XV. Metals
Søm, 2
99.340
100 Stk
Nails, 2
100
Pieces
Purchase
15
17
18
16.806


XV. Metals
Søm, 3
613.635
100 Stk
Nails, 3
100
Pieces
Purchase
25
26
28
165.390


XV. Metals
Søm, 4
2.270.328
100 Stk
Nails, 4
100
Pieces
Purchase
34
36
38
841.117


XV. Metals
Søm, 5
120.460
100 Stk
Nails, 5
100
Pieces
Purchase
63
67
71
82.203


XV. Metals
Søm, 6
56.754
100 Stk
Nails, 6
100
Pieces
Purchase
91
98
105
56.834


XV. Metals
Søm, 7
128.900
100 Stk
Nails, 7
100
Pieces
Purchase
27
28
30
35.907


XVII. Other Articles
Beg
2.016
Pund
Pitch
0,5
kg
Purchase
6
6
5
11.056


XVII. Other Articles
Bomolie
749
Pot
Olive Oil
0,966
litre
Purchase
49
52
48
36.339


XVII. Other Articles
Brunrødt
1.180
Pund
Red Ochre
0,5
kg
Purchase
7
8
7
8.197


XVII. Other Articles
Krudt, 1
2.679
Pund
Gun Powder, 1
0,5
kg
Purchase
35
38
34
98.989


XVII. Other Articles
Krudt, 2
4.649
Pund
Gun Powder, 2
0,5
kg
Purchase
28
30
27
128.864


XVII. Other Articles
Krudt, 3
1.601
Pund
Gun Powder, 3
0,5
kg
Purchase
47
50
45
74.289


XVII. Other Articles
Krudt, 4
76
Pund
Gun Powder, 4
0,5
kg
Purchase
84
102
87
5.915


XVII. Other Articles
Linolie
1.141
Pot
Linseed oil
0,966
litre
Purchase
26
28
25
30.151


XVII. Other Articles
Spader
499
Stk
Spades


Each
Purchase
51
56
50
25.582


XVII. Other Articles
Sæbe, Grøn, Pund
1.387
Pund
Green soap per Pund
0,5
kg
Purchase
11
12
11
15.818


XVII. Other Articles
Sæbe, Grøn, Tønder
63
Tønde
Green soap per Barrel
131,39
litre
Purchase
1855
1963
1718
114.100
Beer barrel = 136 Pots
XVII. Other Articles
Sæbe, Hvid
66
Pund
White soap
0,5
kg
Purchase
20
24
22
1.371


XVII. Other Articles
Terpentin
206
Pot
Turpentine
0,966
litre
Purchase
45
48
44
8.993


XVII. Other Articles
Tjære, Ankre
26
Anker
Tar per Anker
37,68
litre
Purchase
175
201
158
4.847
39 Potter
XVII. Other Articles
Tjære, Potter
1.151
Pot
Tar, per Potte
0,966
litre
Purchase
6
7
6
7.217


XVII. Other Articles
Tjære, Tønder
572
Tønde
Tar, per Barrel
115,9
litre
Purchase
524
580
500
291.232